Hanneke Smits
Executive Director, Chief Executive Officer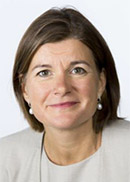 Hanneke Smits is the CEO for Newton Investment Management. Based in London, she is actively involved in managing Newton's operations and the global investment team that directs Newton's investment strategies.
Hanneke previously served as a member of the Executive Committee at private equity firm Adams Street Partners from 2001 to 2014 and as Chief Investment Officer there from 2008 to 2014. Hanneke joined Adams Street in 1997 to successfully launch its presence in Europe and in Asia and to build out its global investment capabilities. In addition, Hanneke was previously an investment manager at Pantheon Ventures and has worked for Philips China Hong Kong Group.
Hanneke is co-founder, former Chair and steering committee member of Level 20, a not-for-profit organisation set up to inspire women to join and succeed in the private equity industry, and a trustee of Impetus-PEF, a venture philanthropy organisation. Originally from the Netherlands, she has a Bachelor of Business Administration from Nijenrode University and a Masters of Business Administration from the London Business School.